Parent Volunteer Opportunities
Each family is required to volunteer 36 hours per school year per child enrolled, in order to involve the entire family in the education of your children. Please see below for current volunteer opportunities. Volunteer opportunities can be logged in ParentsWeb.
INSTRUCTIONS - ENTERING SERVICE HOURS ON PARENTSWEB
#1 Library Volunteer Days on Aug. 6 - 7 The library is in need of parent volunteers August 6-7 for various tasks to ensure the library is well organized and ready to receive students and faculty for the upcoming school year. Tasks include putting books in the correct order on shelves, applying stickers over barcodes, and taking books without barcodes off the shelves. While every effort has been made to ensure stickers are placed and unprocessed books are removed, there are always a few that slip through! Please contact our new librarian,Meagan Hudson at mndh2017@gmail.com to schedule your volunteer time(s).

#2 Attend Parent Conferences on August 9-10, October 22-23, and March 7-8 (1 hour per adult who attends)

#3 Attend the Picnic on Capitol Park on August 28 (5:15 pm)

#4 Sign up for a table for the International Festival on April 30 to showcase your family's heritage. We furnish the flag, country sign, table and passport stamp so PLEASE tell us so we can place the order! Festival starts at 5:15 p.m. on Capitol Park.

#5 Serve on Library Committee to plan April Book Fair and help with data input to catalog 8,000 books—get a lesson from Meagan Hudson and take a stack of books home to enter data. Or, volunteer any day to shelve books.

#6 Attend the PTC Thanksgiving Dinner November 15 at 5:30 pm.

#7 Volunteer with Spelling Bee TBD in the Library.

#8 Attend a Parent Education Seminar at 4:15 p.m. (dates TBD) while child can be in school:

#9 Get a Publix School card from the office to use to shop.

#10 Collect Box Tops Our school can turn these in for free P.E. equipment.

#11 Every purchase from Amazon Smile makes a donation to our foundation if you register smile.amazon.com at Amazon Smile.
​Don't forget to log your volunteer hours!
Purchase a Capitol School collectable medallion to celebrate our 25th anniversary (1993-2018). It just arrived in time for some families to use for a Christmas tree ornament or holiday gift. Available in the school office for $20.00.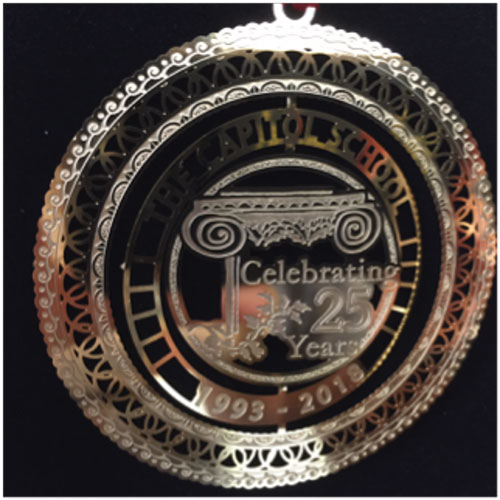 Would your family enjoy hosting an intern from Taiwan from March 17 – May 25, 2018? We will transport them from & to the BHM Airport if you will bring them to school daily the same hours that your child attends. You would be their host family and they agree to help your child with Chinese lessons. This fulfills ALL 36 hours! Please come to the office to choose one of the 6 college seniors.

Donate 1/2 of the state of Alabama tax you owe to Scholarships for Kids. Dr. Rountree will be happy to help you—it takes about 7 minutes on My Alabama Taxes. If you "donate" half the tax you owe for the year— you can deduct it from your federal taxes as a charitable donation so it may save you money! One former parent who is a CPA at Jamison, Money, Farmer said it saved him over a $1,000 on his federal taxes last year.

Write a parent testimonial for our new website (4 hours).

​Check back soon for more 2017-2018 School Year Volunteer Opportunities!